Peace Sistahs,
About a couple of months ago I got an email from a reader thanking me for my work on SistahGoddess blogspot. I was thankful this Sistah sent me her myspace page because from there I encountered her BEAUTIFUL, POWERFUL AND REVOLUTIONARY work. Amaris is the type of Sistah who inspires this blog because this blog is dedicated to the Sistahs who stir the winds of consciousness each and every day - Sistahs who tap into their Creator given wisdom and TEACH! I give thanks for the opportunity to meet and learn from Amaris on this sacred path.
How did you get your start as an spoken word artist?
I would say I was born a poet. I got my start in spoken word once I was introduced to it my freshman year in college at North Carolina A&T. I went to a venue and there were people on stage speaking their truths in poetic rhyme. It was powerful to me because through it I saw them connecting with us and each other. I wrote poetry before then but it was always for myself. I never really shared it but through this experience I was able to see the value of sharing myself with others. It brought us together. It allowed us to heal together. Needless to say I fell in love with the art of spoken word poetry. The next time I went I shared and began to write more and more. I began reciting and performing all over Greensboro then NC then the U.S.
Who would you say your work speaks to? Do you have a specific
audience in mind? Does it surprise you who is attracted to your work?
My work speaks to people, mainly people of African descent because I speak out of who I am but I am surprised often to see Natives, Hispanics, Asians, even Whites approach me with tears in their eyes saying how much my words meant to them. I never forget those people we are always connected by this powerful art. It speaks to young as well as old. Elders hold my hand and look me in the eye and tell me to never stop speaking. I am indebted to all the people that my work speaks to. I believe that art has the power to transcend many barriers. (If you get the SistahGoddess subscriber email then
click this link
to the Oxygen video.)
Who has influenced your work?
I am influenced by so many things but the question was who, so the Creator of course. I am but a willing vessel. I don't know the words that heal, I am just willing to open my mouth, my heart, my ears, my soul, my hands and give what is given to me. I am influenced by my family and friends, people that I don't know but feel. People of the African diaspora and by other writers and artists like Sonia Sanchez, Amiri Baraka, Audre Lorde, Nikki G.,the Last Poets, Nina Simone, Mos Def, Erykah, Lauryn, you Sistah C. So many people that I connect with in some way or another. Life is an influence all by her self. Everyone who crosses my path is there for a reason so I am influenced by all of them in ways unique to them.
What do you want people to get from your art?
I want people to get Love and Truth from my art. I want people to be able to heal themselves thru a greater connection to the Creator which is the source of Love and Truth. I want them to re- remember who they are and who we all are. To love humanity and themselves and seek the light of truth to guide them through this reality called Life.
"Rooted Womb" original art by Amaris
Your work speaks a lot to what needs to changed in this society.
Many people are very excited about the new president. Who do you think
in this society is the best equipped to lead us to change?
I feel as if we are all agents of change. It can not be ONE person who lead us but rather many leaders dedicated to the same purpose of change and progress. These people should be grounded in love and truth to do this. I am excited about Obama but I understand that no change has ever occurred in our reality with one person. It takes combined efforts and will. We all are responsible for being the change we want to see in the world. No one person is equipped to handle it alone, it is too heavy a load. I believe Obama is a beautiful example of the change that we all want and need.
What about being a Sistah inspires your work?
Everything about being a sista inspires my work. The pure nature of being a sista allows me to see things in a very unique way. We, sistas are at the bottom of society which allows us to see things more purely. I always say that people at the lowest place of society have a better grasp on reality because they see things as they really are. Out of our oppression we can see righteousness and where we all need to be. I can see and overstand every -ism that we must face. Also being a sista means we are the mother of all. We have a great responsibility to the world. It was said if you heal a woman, you heal a world. We are the spiritual leaders and the spirit guides the physical so we are leaders of the world even from our low state. This consciousness greatly inspires who I am and therefore my work which is an extension of me. Sistas are beautiful powerful beings, my work is inspired to be a reflection of that beauty and power.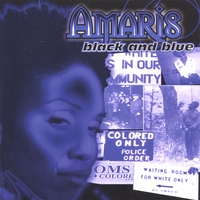 Listen to her work at her
MySpace
page or try this
link
.
What is your next project? Also, tell us about future performances
and how to get your cd.
I have been doing a whole lot of self-cultivating which I believe is necessary for the purity of the art. I take this gift very seriously because I affect people's lives in very real ways. It mandates that I am in the right place spiritually as well emotionally and mentally. I was working on my next CD but it keeps being postponed due to my need to grow to where I need to be in order to divinely reach who I need to reach.
I am also applying to Grad school to cultivate my "raw" talent and be able to use the traditions of the past to move my art into realms where it may not have been able to exist or be respected. I want to grow as a writer so I am working toward a manuscript and album for next year. Also my visual art has grown greatly during this time of cultivation.
Amaris' cd can be found and purchased at
www.cdbaby.com/amaris
. My art and poetry can be found at
www.myspace.com/amaris7
.