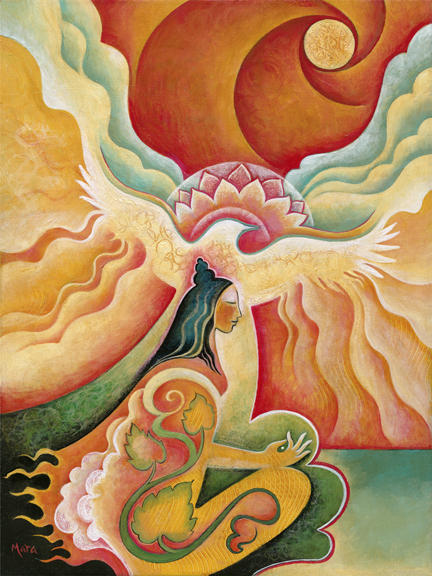 Artist:
Mara Friedman
I think I have mentioned that my
home
has been calling me lately. It is funny how I can close my eyes and see, feel and touch every part of it. I had planted a garden there last summer - my very first garden...I grew peppers, watermelon, lettuce, kale, okra and tomatoes. I remember how it felt to reach into the earth and mix the soil -care for my little seedlings with the hope and expectation that they would grow fruits. I remember the lake outside in back of my home with calm flowing waters that nurtured a crew of ducks, geese, water snakes and turtles. On a sunny day the turtles would float on the top of the water to receive the energy of the sun's rays. I remember that I planted beautiful flowers all around the house and even cultivated a small garden on one of the patios. This house also had a huge rock - mammoth in size- it was the source of true earth bone energy- you could tell it had been there longer than the existence of any man. This beautiful, solid Grandmother rock is definitely alive - I think it is truly her that has been reaching out to me. The message is to remember that to have a home is more than just a place to lay your head - it is a place that you infuse with your energy, your nurturing and your respect- with these actions any place can be your home-especially that deep place inside of you.
DAY 20 (write it down, meditate for 15min, journal your thoughts)
20. I keep my mind and thoughts off "this world" and I place my entire focus on God-the Creator within as the only Cause of my prosperity. I acknowledge the Inner Presence as the only activity in my financial affairs, as the substance of all things visible. I place my faith in the Principle of Abundance in action within me.