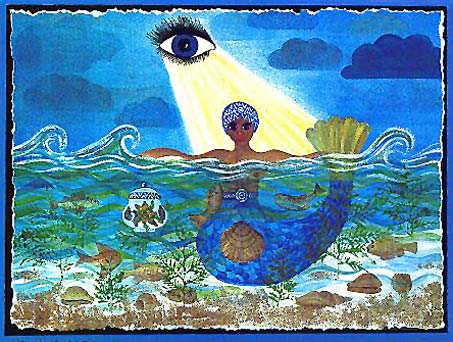 Artist:
Silvia Schiffmann
Yemaya is calling her children.

Great Mother, I hear you calling...
I am coming to you because
it is only from your womb
that I can be born into my greatness...
I am your daughter not the daughter of man...
Wash me with your birth waters,
Cleanse my eyes so that I can
see I am powerful, I am divine...
Allow me to be re-born again
from your womb...
Wash my mind of illusion...
Let me drink from your water of
Truth
Help me to live as a divine
representation of your greatness...
I give thanks,
I give thanks,
I give thanks...
DAY 3 (write this in your journal, meditate on it and journal your thoughts)
3. I am conscious of the Inner Presence as my lavish Abundance. I am conscious of the constant activity of this Mind of infinite Prosperity. Therefore, my consciousness is filled with the Light of Truth.
Peace,
Sistah C